IMAC PROUDLY ANNOUNCES
OUR NEW AND IMPROVED
LOCAL ARTIST SERIES - LONG ISLAND'S OWN
HOSTED BY WFUV'S JOHN PLATT
Featuring Guitarists:
Steven Adelson & Dean Brown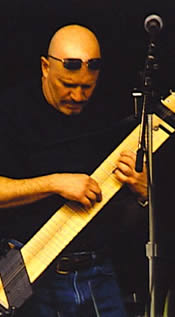 ---
Thursday August 4th @ 8:30pm
ADMISSION: FREE

Who says that things don't get better with age? IMAC Theater is thrilled to announce our local artist series LONG ISLAND'S OWN (formerly known as Local Artist Deserving Wider Recognition) has a new host: WFUV's JOHN PLATT.
Don't let the name change fool you! LONG ISLAND'S OWN still offers everything that Local Artist Deserving Wider Recognition did but without the tongue - twister of a name. As the host of LONG ISLAND'S OWN, WFUV radio personality JOHN PLATT continues to be a driving force behind the support and promotion of local talent. Thanks to a generous grant and tremendous support from the Town of Huntington, IMAC's quarterly series will take a genre such as singer/songwriter, blues, jazz, folk or dance and will offer a sampling of two to three artists in an evening's performance. The series is meant to challenge Long Island audiences to take a chance, have their horizons expanded and experience a pleasant surprise that they might not have considered in the past.
Our next LONG ISLAND'S OWN will be on Thursday August 4th at 8:30pm at the Chapin Rainbow Stage in Hecksher Park and features guitarists Steve Adelson and Dean Brown. This performance is a free, outdoor concert brought to you by The Huntington Arts Council and IMAC Theater.
As a master of the 12 string Chapman Stick, Steve Adelson and his band-mates create a new dimension to live entertainment exploring Latin and cool jazz originals, as well as covers of some of Steve's favorites including Pat Metheny, Sting, Santana and even Jimi Hendrix. Dean Brown has been a hard working musician since the late 70's. He was an original member of Vital Information, the ground breaking group led by the drummer icon, Steve Smith. He's performed with the likes of Billy Cobham, sax star David Sanborn, bassist Marcus Miller, Kirk Whalum, Bill Evans, singer Roberta Flack, keyboardist George Duke as well as touring with his own group.
Tickets for this performance are FREE. For further information on this performance, or on other IMAC programs, call IMAC's 24-hour Arts-Line at (631) 549-ARTS. Tickets can also be purchased at the theater from noon to 6PM, Tuesday through Friday, 2PM to 6PM on Saturdays and after 2PM on the day of the performances. For further information, call IMAC's business office at (631) 549-9666.
The Inter-Media Art Center, Inc. is a non-profit Media and Performing Arts Center whose programs and services are supported in part by public funds from the New York State Council on the Arts (a state agency), Suffolk County Office of Cultural Affairs, the Town of Huntington, by a grant from The Harmon Foundation, as well as by the Members of IMAC. IMAC also gratefully acknowledges support from Bank of America, Korg USA, The Guitar Center, The D'Addario Foundation for the Performing Arts, AutoOne Insurance, Peconic Bay Winery, The Lowerre Family Trust, MDNY Healthcare, Branch Financial Services and Olivia and Harlan Fischer.