IMAC TO PRESENT A CONCERT WITH SINGER/SONGWRITER
AIMEE MANN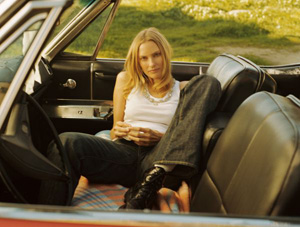 ---
DATE: SATURDAY, November 19th, 2005 at 9:00PM
ADMISSION: $45.00 Full Price / $34.00 IMAC Members
On Saturday, November 19th, 2005 at 9PM, the Inter-Media Art Center (also known as "IMAC") in Huntington, Long Island will present a concert with singer/songwriter: AIMEE MANN.
Aimee Mann songs have a literary quality to them- sharp, spare short stories set to music- so it was probably inevitable that she would one day make a concept album, the musical equivalent of a novella. The Forgotten Arm (SuperEgo), her fifth solo release, is exactly that: a dozen songs that tell, ratherly loosely, the story of John and Caroline as they meet, fall in love and road trip across America. It is also Mann's most straightforward rock record to date.
Mann's career has been eclectic to say the least. As a member of 80's rock group 'Til Tuesday, she achieved minor success in 1985 with its first album Voices Carry. The title song would become an MTV staple, winning the MTV Video Music Award for Best New Artist. Mann gained greater public recognition in 1999 when she contributed eight songs to the soundtrack of Paul Thomas Anderson's Magnolia, including the Academy Award-nominated song, "Save Me".
Tickets for this performance are $45.00 ($34.00 for IMAC Members). For tickets or further information on this performance, or on other IMAC programs, call IMAC's 24-hour Arts-Line at (631) 549-ARTS. Tickets can also be purchased at the theater from noon to 6PM, Tuesday through Friday, 2PM to 6PM on Saturdays and after 2PM on the day of the performances. For further information, call IMAC's business office at (631) 549-9666.
The Inter-Media Art Center, Inc. is a non-profit Media and Performing Arts Center whose programs and services are supported in part by public funds from the New York State Council on the Arts (a state agency), Suffolk County Office of Cultural Affairs, the Town of Huntington, by a grant from The Harmon Foundation, as well as by the Members of IMAC. IMAC also gratefully acknowledges support from Bank of America, Korg USA, The Guitar Center, The D'Addario Foundation for the Performing Arts, AutoOne Insurance, Peconic Bay Winery, The Lowerre Family Trust, MDNY Healthcare, Branch Financial Services and Olivia and Harlan Fischer.