.
.



IMAC TO PRESENT A LOUISIANA
ZYDECO CONCERT WITH

BUCKWHEAT ZYDECO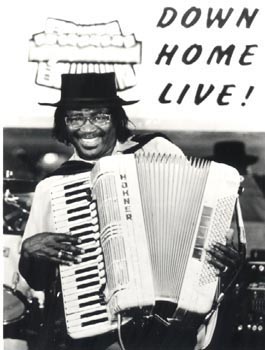 SATURDAY, February 8th, 2003 at 9pm
TICKETS: $35.00 General Public
/ $26.50
On SATURDAY, February 8th at 9PM, the Inter-Media Art Center (IMAC) in Huntington, Long Island will present a Louisiana Zydeco music concert with BUCKWHEAT ZYDECO.

Zydeco is the exuberant dance music of southwestern Louisiana's French-speaking black people who refer to themselves as "Creoles". The music is a lively mix of traditional Creole music combined with '50's and '60's blues, soul and R&B. Its distinctive instrumentation includes accordion, electric guitars, bass, drums and a horn section, in addition to the "frottoir", a washboard that is worn like a vest and scraped with spoons or other implements.

This exciting music, which has been enjoyed on its home turf for generations, is now winning converts
worldwide. Buckwheat Zydeco, led by accordionist, singer and songwriter Stanley "Buckwheat" Dural,
Jr., and backed by the Ils Sont Partis Band, has led the advance of Zydeco out of the swamps and cane fields of his hometown of Lafayette, Louisiana and into the pop mainstream where they have opened for artists like U2, Eric Clapton, Keith Richards and Robert Cray. Buckwheat has been nominated for four Grammys, and has recorded about a dozen albums, including his Grammy-nominated classic "On a Night
Like This."
Tickets for this performance are $35.00 ($26.50 for IMAC Members). For tickets to this performance, or for other IMAC programs, call IMAC's 24-hour Arts-Line at (631) 549-ARTS. Tickets can also be purchased at the theater from noon to 6PM, Tuesdays to Fridays, and after 2PM on the day of the show. For further information, call IMAC's business office at (631) 549-9666.
The Inter-Media Art Center, Inc. is a non-profit Media and Performing Arts Center whose programs and services are supported in part by public funds from the New York State Council on the Arts, a state agency and the Suffolk County Office of Cultural Affairs, as well as by the Members of IMAC. IMAC also gratefully acknowledges support from Fleet Bank, Korg, USA, Branch Financial Services and Olivia and Harlan Fischer. 370 New York Avenue Huntington, NY 11743-3319

(631) 549-9666 voice (631) 549-9423 fax
e-mail: [email protected] http://www.imactheater.org
.
.