IMAC TO PRESENT A CONCERT WITH
SMOOTH JAZZ KEYBOARDIST
BRIAN CULBERTSON
Featuring Jazz Saxophonist MICHAEL LINGTON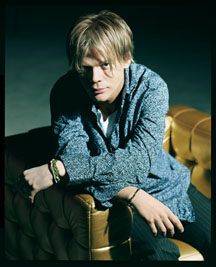 ADMISSION: $37.50 Full Price / $28.50 IMAC Members
---
DATE CHANGE
FRIDAY SEPTEMBER 17th, 2004 @ 9pm
On Friday September 17, 2004 at 9PM, the Inter-Media Art Center (also known as "IMAC") in Huntington, Long Island will present a concert with smooth jazz keyboardist BRIAN CULBERTSON and featuring jazz saxophonist MICHAEL LINGTON.
Brian Culbertson writes soundscapes for modern times- sophisticated and smooth, yet pushed by a sensual, steamy pulse that's both uptown and upscale. It's music for people on the move and in the mood. He's been laying down these seductive grooves since 1994, when "Long Night Out" positioned him as a studio-savvy prodigy and the talent to watch in smooth jazz. The years that followed marked a steady ascension in Culbertson's career, as he quickly established himself in the contemporary jazz world. Two of his hit singles, "Do You Really Love Me?" and "Back in the Day", soared to the top of the NAC charts, and his album "Somethin' Bout Love" rode high on the Top 20 contemporary jazz charts for nearly a year.
Michael Lington began playing clarinet at age seven and remembers spending time as a young boy with his grandfather in Copenhagen, walking the streets and talking about the music industry. Lington was trained classical, but switched to the sax at age 15 upon hearing American soul and jazz musicians like Cannonball Adderly, John Coltrane and David Sanborn. He's played with rock legends Little Richard, Gary "U.S."Bonds and with jazz singer Bobby Caldwell.
Tickets for this performance are $37.50 ($28.50 for IMAC Members). For tickets or further information on this performance, or on other IMAC programs, call IMAC's 24-hour Arts-Line at (631) 549-ARTS. Tickets can also be purchased at the theater from noon to 6PM, Tuesday through Friday, 2PM to 6PM on Saturdays and after 2PM on the day of the performances. For further information, call IMAC's business office at (631) 549-9666.
The Inter-Media Art Center, Inc. is a non-profit Media and Performing Arts Center whose programs and services are supported in part by public funds from the New York State Council on the Arts (a state agency), Suffolk County Office of Cultural Affairs, the Town of Huntington, by a grant from The Harmon Foundation, as well as by the Members of IMAC. IMAC also gratefully acknowledges support from Fleet Bank, Korg USA, The Guitar Center, The D'Addario Foundation for the Performing Arts, AutoOne Insurance, Peconic Bay Winery, Branch Financial Services and Olivia and Harlan Fischer.