IMAC TO PRESENT A CONCERT WITH SINGER/SONGWRITER
IRIS DeMENT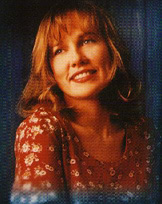 $37.50 Full Price / $28.50 IMAC Members
---
DATE: SATURDAY, August 21st, 2004 at 9PM
On Saturday, August 21st, 2004 at 9PM, the Inter-Media Art Center (also known as "IMAC") in Huntington, Long Island will present a concert with singer/ songwriter IRIS DeMENT.
Iris DeMent grew up close to the Tennessee and Missouri borders, the youngest of 14 children in a farming family. Finances eventually forced the DeMents to settle first in Long Beach, Los Angeles, when she was three, and then Anaheim. Her mother's ambition had always been to sing at the Grand Ole Opry in Nashville (a fact later recalled in the song "Mama's Opry" on her debut album) and the family had its own singing sessions. Iris moved to Nashville when she was 25 and embarked on writing her own songs for the first time. She subsisted by working as a secretary and waitress while trying to secure a recording contract. Eventually Philo Records signed her. Surrounded by accomplished players such as Al Perkins and Jerry Douglas, as well as friend and producer Jimmy Rooney, her debut album, Infamous Angel, was an acclaimed, acoustically based country folk set that mixed homespun reflection with charming, accessible lyrics. A good example of her approach was "Let The Mystery Be", a highly spiritual song that was later recorded by 10,000 Maniacs on their MTV Unplugged appearance. The rave notices that accompanied the album resulted in a recording contract with Warner Brothers Records, and she was subsequently invited to appear on Nanci Griffith's Other Voices, Other Rooms. Her other hero, Emmylou Harris, had appeared on Infamous Angel. DeMent subsequently appeared at the Cambridge Folk Festival in 1993, though audiences were not entirely convinced of her ability to take what remain fundamentally intimate songs into a major live arena.
Tickets for this performance are $37.50 ($28.50 for IMAC Members). For tickets or further information on this performance, or on other IMAC programs, call IMAC's 24-hour Arts-Line at (631) 549-ARTS. Tickets can also be purchased at the theater from noon to 6PM, Tuesday through Friday, 2PM to 6PM on Saturdays and after 2PM on the day of the performances. For further information, call IMAC's business office at (631) 549-9666.
The Inter-Media Art Center, Inc. is a non-profit Media and Performing Arts Center whose programs and services are supported in part by public funds from the New York State Council on the Arts (a state agency), Suffolk County Office of Cultural Affairs, the Town of Huntington, by a grant from The Harmon Foundation, as well as by the Members of IMAC. IMAC also gratefully acknowledges support from Fleet Bank, Korg USA, The Guitar Center, The D'Addario Foundation for the Performing Arts, AutoOne Insurance, Peconic Bay Winery, Branch Financial Services and Olivia and Harlan Fischer.