IMAC to host a concert of Jazz/ Rock Fusion with :
Two Shades of Steve Morse:
The Dixie Dregs & The Steve Morse Band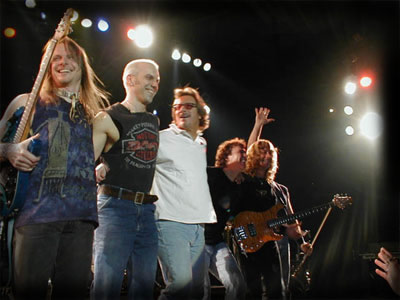 Date: Saturday April 9, 2005 at 8 & 10:30pm
Tickets: : $40.00/ $30.00 IMAC MEMBERS
---
On Saturday, April 9, 2005 at 8 & 10:30PM, the Inter-Media Art Center in Huntington, Long Island will host a concert with jazz/rock fusion guitarist STEVE MORSE- presenting his two bands the DIXIE DREGS and THE STEVE MORSE BAND.
One of the top jazz/ rock fusion ensembles ever, the DIXIE DREGS helped redefine contemporary instrumental music. The lineup for the Dixie Dregs includes Steve Morse, Rod Morgenstein, T Lavitz, Dave LaRue, and former Mahavishnu Orchestra violin player Jerry Goodman.
Also in at this performance: THE STEVE MORSE BAND consists of Dixie Dregs members Steve Morse, Dave LaRue, and Van Romaine. Steve's sharp, angular style of guitar playing has become a trademark of both the Dixie Dregs and The Steve Morse Band. No musician embodies the American melting pot of instrumental rock quite like Steve Morse. Steve is a huge favorite with IMAC audiences, and we look forward to welcoming him and his bands back to our stage.
Tickets for this performance are $40.00 General Public ($30.00 for IMAC Members). For tickets or further information on this performance, or on other IMAC programs, call IMAC's 24-hour Arts-Line at (631) 549-ARTS. Tickets can also be purchased at the theater from noon to 6PM, Tuesdays to Fridays, and after 2PM on the day of the performance. For further information, call IMAC's business office at (631) 549-9666.
The Inter-Media Art Center, Inc. is a non-profit Media and Performing Arts Center whose programs and services are supported in part by public funds from the New York State Council on the Arts (a state agency), Suffolk County Office of Cultural Affairs, the Town of Huntington, by a grant from The Harmon Foundation, as well as by the Members of IMAC. IMAC also gratefully acknowledges support from Bank of America, Korg USA, The Guitar Center, The D'Addario Foundation for the Performing Arts, AutoOne Insurance, Peconic Bay Winery, The Lowerre Family Trust, MDNY Healthcare, Branch Financial Services and Olivia and Harlan Fischer.

370 New York Avenue Huntington, NY 11743-3319
(631) 549-9666 voice (631) 549-9423 fax
e-mail: [email protected] web-site: http://www.imactheater.org