IMAC TO PRESENT A CONCERT WITH LATIN GUITARIST/ SINGER-SONGWRITER
JOSE FELICIANO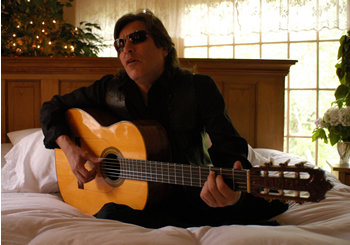 ---
FRIDAY, November 18th, 2005 at 8PM & 10:30PM
ADMISSION: $45.00 Full Price / $34.00 IMAC Members
On Friday, November 18th, 2005 at 8PM & 10:30PM, the Inter-Media Art Center (also known as "IMAC") in Huntington, Long Island will present a concert with Latin guitarist and singer-songwriter: JOSE FELICAINO.
Jose Feliciano is recognized as the first Latin Artist to cross over into the English music market, opening doors to others who now play an important part in the American music industry. As importantly, Feliciano has been acclaimed by critics throughout the world as "the greatest living guitarist". Guitar Player Magazine awarded him "Best Pop Guitarist" placing him in their "Gallery of the Greats" and he's been voted both Best Jazz and Best Rock Guitarist in the Playboy Magazine reader's poll, as well. He's been awarded over forty-five Gold and Platinum records; has won sixteen Grammy nominations, earning him six Grammy awards and is in receipt of countless prestigious awards the world over. In 1996, Jose Feliciano was selected to receive Billboard Magazine's Lifetime Achievement Award.
Three songs that have been milestones for Feliciano are: "Light My Fire" (which was number one on the charts in 1968 and according to the song publisher, is now a "standard" due to Jose's interpretation), "Che Sera" (a mega-success in Europe, Asia and South America) and of course, "Feliz Navidad" (the Christmas song that has now become a tradition worldwide during the holiday season every year). IMAC is thrilled to welcome this musical icon to our stage!
Tickets for this performance are $45.00 ($34.00 for IMAC Members). For tickets or further information on this performance, or on other IMAC programs, call IMAC's 24-hour Arts-Line at (631) 549-ARTS. Tickets can also be purchased at the theater from noon to 6PM, Tuesday through Friday, 2PM to 6PM on Saturdays and after 2PM on the day of the performances. For further information, call IMAC's business office at (631) 549-9666.
The Inter-Media Art Center, Inc. is a non-profit Media and Performing Arts Center whose programs and services are supported in part by public funds from the New York State Council on the Arts (a state agency), Suffolk County Office of Cultural Affairs, the Town of Huntington, by a grant from The Harmon Foundation, as well as by the Members of IMAC. IMAC also gratefully acknowledges support from Bank of America, Korg USA, The Guitar Center, The D'Addario Foundation for the Performing Arts, AutoOne Insurance, Peconic Bay Winery, The Lowerre Family Trust, MDNY Healthcare, Branch Financial Services and Olivia and Harlan Fischer.