IMAC TO PRESENT A CONCERT WITH ADULT CONTEMPORARY SUPERGROUP
FOURPLAY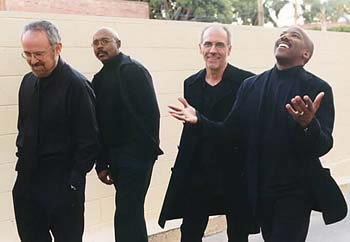 $40.00 Full Price / $30.00 IMAC Members
---
FRIDAY, November 19th, 2004 at 8PM & 10:30PM
On Friday, November 19th, 2004 at 8PM & 10:30PM, the Inter-Media Art Center (also known as "IMAC") in Huntington, Long Island will present a concert with adult contemporary music super group FOURPLAY.
Superb musicianship is the cornerstone of Fourplay. Comprised of four of the worlds most revered and accomplished individual recording and performing artist's, the number of industry awards, honors and critical appellations received by both the individuals and the group as a whole, confirms their superlative reputation.
Combining elements of R&B, pop, rock, blues, classical and jazz, Fourplay has managed to garner a legion of fans that literally spans all ethnic, musical and geographical boundaries. Fourplay features the talents of Bob James (keyboardist), Harvey Mason (drummer), Nathan East (bassist) and Larry Carlton (guitarist). IMAC is thrilled to welcome this plethora of talent to our stage.
Tickets for this performance are $40.00 ($30.00 for IMAC Members). For tickets or further information on this performance, or on other IMAC programs, call IMAC's 24-hour Arts-Line at (631) 549-ARTS. Tickets can also be purchased at the theater from noon to 6PM, Tuesday through Friday, 2PM to 6PM on Saturdays and after 2PM on the day of the performances. For further information, call IMAC's business office at (631) 549-9666.
The Inter-Media Art Center, Inc. is a non-profit Media and Performing Arts Center whose programs and services are supported in part by public funds from the New York State Council on the Arts (a state agency), Suffolk County Office of Cultural Affairs, the Town of Huntington, by a grant from The Harmon Foundation, as well as by the Members of IMAC. IMAC also gratefully acknowledges support from Fleet Bank, Korg USA, The Guitar Center, The D'Addario Foundation for the Performing Arts, AutoOne Insurance, Peconic Bay Winery, Branch Financial Services and Olivia and Harlan Fischer.