IMAC TO PRESENT A CONCERT WITH GUITARIST
ROBERT FRIPP- SOLO
SOUNDSCAPES- Words & Music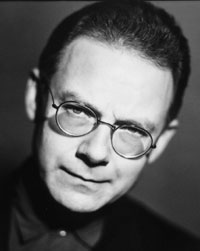 ---
DATE: SATURDAY, June 18th, 2005 at 9PM
ADMISSION: $37.50 Full Price / $28.50 IMAC Members

On Saturday, June 18th, 2005 at 9PM, the Inter-Media Art Center (also known as "IMAC") in Huntington, Long Island will present a solo concert with Robert Fripp: Soundscape- Words & Music.
Robert Fripp is best known as a founder and continuing member of King Crimson, from the debut album "In The Court of The Crimson King" in 1969 through "Lark's Tongues In Aspic" (1972), "Red" (1974), "Discipline" (1981), "VROOOM" (1994), "THRAK" (1995), "THRaKaTTaK" (1996), and the H.O.R.D.E. tour of 1996.
This performance will feature Robert Fripp solo and a Soundscapes performance. The Soundscapes performances are part of an ongoing series which has the aim of finding ways in which intelligence and music, definition and discovery, courtesy and reciprocation may enter into the act of music for both musician and audience.
All Soundscape performances and recordings are improvised, with Robert Fripp both controlling and reacting to the output of the delay units. In Robert Fripp's words "Soundscapes are based on delay, repetition, and hazard" and are "improvised and largely governed by the time, place, audience and the performer's response to them". He usually adds the rider that "this remains the best way I know of making a lot of noise with one guitar".
For more information on Robert Fripp, please visit: www.robertfripp.com. For more information on Soundscape performances, including the technical aspects, please visit:
http://www.disciplineglobalmobile.com/cat/soundsc.shtml
Tickets for this performance are $37.50 ($28.50 for IMAC Members). For tickets or further information on this performance, or on other IMAC programs, call IMAC's 24-hour Arts-Line at (631) 549-ARTS. Tickets can also be purchased at the theater from noon to 6PM, Tuesday through Friday, 2PM to 6PM on Saturdays and after 2PM on the day of the performances. For further information, call IMAC's business office at (631) 549-9666.
The Inter-Media Art Center, Inc. is a non-profit Media and Performing Arts Center whose programs and services are supported in part by public funds from the New York State Council on the Arts (a state agency), Suffolk County Office of Cultural Affairs, the Town of Huntington, by a grant from The Harmon Foundation, as well as by the Members of IMAC. IMAC also gratefully acknowledges support from Bank of America, Korg USA, The Guitar Center, The D'Addario Foundation for the Performing Arts, AutoOne Insurance, Peconic Bay Winery, The Lowerre Family Trust, MDNY Healthcare, Branch Financial Services and Olivia and Harlan Fischer.