IMAC TO HOST A CONCERT
WITH TEXAS ROCKER

ROBERT EARL KEEN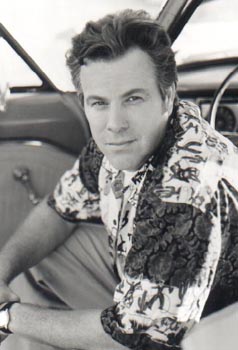 Friday, October 11th at 9pm

TICKETS: $30.00 General Public
/ $22.50
On Friday, October 11th at 9pm, the Inter-Media Art Center in Huntington, Long Island will host a concert with Texas blues-rocker ROBERT EARL KEEN.

Robert Earl Keen walks a line between literary delicacy and incendiary roadhouse fervor and emerges as a true lyric prospector. His undeniable gift for weaving ironic story-songs of loving
losers and losing lovers has made him a near-legend in his native Texas and has sold out concerts
around the country. His songs have been covered by a diverse group of artists, including The
Highwaymen, Nanci Griffith, Lyle Lovett and Gillian Welch, to name a few. Picnic, his 1997 major label debut (he's recorded independently for years) for
Arista/Austin Records, rose instantaneously to the #1 album on Americana stations and remained there
for over 3 months. His newest album Walking Distance is Robert Earl Keen's most fully realized album. IMAC is thrilled to welcome this gifted artist back to our stage.
Tickets for this performance are $30.00 ($22.50 for IMAC Members). For tickets to this performance, or for other IMAC programs, call IMAC's 24-hour Arts-Line at (631) 549-ARTS. Tickets can also be purchased at the theater from noon to 6PM, Tuesdays to Fridays, and after 2PM on the day of the show. For further information, call IMAC's business office at (631) 549-9666.
The Inter-Media Art Center, Inc. is a non-profit Media and Performing Arts Center whose programs and services are supported in part by public funds from the New York State Council on the Arts, a state agency and the Suffolk County Office of Cultural Affairs, as well as by the Members of IMAC. IMAC also gratefully acknowledges support from Fleet Bank, Korg, USA, Branch Financial Services and Olivia and Harlan Fischer. 370 New York Avenue Huntington, NY 11743-3319

(631) 549-9666 voice (631) 549-9423 fax
e-mail: [email protected] http://www.imactheater.org