IMAC TO PRESENT
Legendary Slide-Guitarist
SONNY LANDRETH
Special Guest Opener- Long Island's Own-
The KERRY KEARNEY Band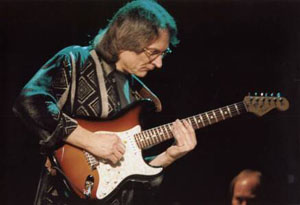 ---
Friday October 27th, 2006 at 9pm
ADMISSION: $37.50 Full Price / $28.50 IMAC Members
On Friday, October 27th, 2006 at 9PM, the Inter-Media Art Center (also known as "IMAC") in Huntington, Long Island will present a concert with legendary slide-guitarist Sonny Landreth. The evening will also feature special guest opener Long Island's own The Kerry Kearney Band.
Legendary slide-guitarist Sonny Landreth has been working steadily for decades, amassing a devoted following among his fans and peers. Eric Clapton said he is "probably the most underestimated musician on the planet and also probably one of the most advanced." Indeed, as Landreth's way of playing is unmistakably his own- his method combines the bottleneck slide, palm and finger-picking techniques that produce a sound that is often said to resemble many instruments playing at once.
The Kerry Kearney Band, featuring their slide-guitar frontman Kerry Kearney, is a native Long Island band that plays an exciting, unique style of Blues-root music with a completely original sound. The band has toured both nationally and internationally, opening for the Allman Brothers, Dickey Betts and Mountain. The band has played many music festivals including, being the headline band for four of the seven annual Riverhead Blues Festivals in New York, 2006 June Jam in Delaware, Bucks Country Blues Festival in Pennsylvania, 2005 and 2006 Mayfair Arts and Music Festival in Pennsylvania and The Guinness 2006 Blues Festival in Castlebar, Ireland.
Tickets for this performance are $37.50 ($28.50 for IMAC Members). For tickets or further information on this performance, or on other IMAC programs, call IMAC's 24-hour Arts-Line at (631) 549-ARTS. Tickets can also be purchased at the theater from noon to 6PM, Tuesday through Friday, 2PM to 6PM on Saturdays and after 2PM on the day of the performances. For further information, call IMAC's business office at (631) 549-9666.
The Inter-Media Art Center, Inc. is a non-profit Media and Performing Arts Center whose programs and services are supported in part by public funds from the New York State Council on the Arts (a state agency), Suffolk County Office of Cultural Affairs, the Town of Huntington, NYS Senator Carl Marcellino, by a grant from The Harmon Foundation, as well as by the Members of IMAC. IMAC also gratefully acknowledges support from Bank of America, Korg USA, The D'Addario Foundation for the Performing Arts, JBL Pro, AutoOne Insurance, Peconic Bay Winery, The Lowerre Family Trust, Branch Financial Services and Olivia and Harlan Fischer.