IMAC TO PRESENT A CONCERT WITH
WITH NUEVO FLAMENCO GUITARIST
OTTMAR LIEBERT
Solo Guitar & Conversation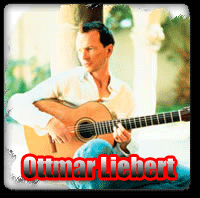 www.lunanegra.com
Music link





Tickets: $37.50 Full Price / $28.50 IMAC MEMBERS
---
Friday, December 1st, 2006 at 9PM
On Friday, December 1st, 2006 at 9PM, the Inter-Media Art Center (also known as "IMAC") in Huntington, Long Island will present an evening with Ottmar Liebert: Solo Guitar & Conversation.
Since 1990, Ottmar Liebert has released a total of 24 albums, including live releases, Christmas CDs, 10 CDs of original music, a DVD and remixes. His debut album, 1990's Nouveau Flamenco, featuring the stunning "Barcelona Nights," sold double-platinum and has become the biggest-selling guitar album of all time, redefining Flamenco music and marking Liebert as one of the most talented, influential and creative guitarists and performers to surface in years. His fans--hardcore guitarists and guitar fans, instrumental music aficionados and numerous lovers of his often poignant, always inspired sound--are ardent in their appreciation of Liebert. Critical acclaim has been equally fervent, Billboard magazine honoring him twice New Age Artist of the Year. From rumba to Bossa Nova to classical to Christmas tunes to lullabies, Liebert has explored and expanded them all, putting his unique stamp and intellectual yet visceral spin to music.
This will be a rare opportunity for fans to get up close and personal with Ottmar Liebert. The evening will be a unique blend of solo guitar playing and conversation. IMAC is thrilled to offer this intimate experience with such a talented artist.
Tickets for this performance are $37.50 ($28.50 for IMAC Members). For tickets or further information on this performance, or on other IMAC programs, call IMAC's 24-hour Arts-Line at (631) 549-ARTS. Tickets can also be purchased at the theater from noon to 6PM, Tuesday through Friday, 2PM to 6PM on Saturdays and after 2PM on the day of the performances. For further information, call IMAC's business office at (631) 549-9666.
The Inter-Media Art Center, Inc. is a non-profit Media and Performing Arts Center whose programs and services are supported in part by public funds from the New York State Council on the Arts (a state agency), Suffolk County Office of Cultural Affairs, the Town of Huntington, NYS Senator Carl Marcellino, by a grant from The Harmon Foundation, as well as by the Members of IMAC. IMAC also gratefully acknowledges support from Bank of America, Korg USA, The D'Addario Foundation for the Performing Arts, JBL Pro, AutoOne Insurance, Peconic Bay Winery, The Lowerre Family Trust, Branch Financial Services and Olivia and Harlan Fischer.