IMAC TO PRESENT A CONCERT WITH
RED HOT CELTIC FIDDLER
ASHLEY MACISAAC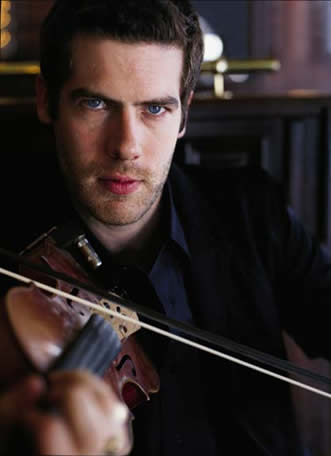 $37.50 Full Price / $28.50 IMAC Members
---
DATE: FRIDAY, October 15th, 2004 at 9PM
On Friday, October 15th, 2004 at 9PM, the Inter-Media Art Center (also known as "IMAC") in Huntington, Long Island will present a concert with red-hot, smokin' Celtic fiddle player ASHLEY MACISAAC.
When Ashley MacIsaac burst on the worldwide scene with 1995's Hi, How Are You Today? (A&M) he scored the kind of coup instrumental artists often dream of. Going triple-platinum in Canada and breaking down radio barriers with the Gaelic single "Sleepy Maggie", Ashley became an immediate pop icon, rebellious and exuberant, resplendent in kilts, army boots and combat pants. Copping from rocker's sensibilities, Ashley made an aesthetic of it onstage, effortlessly blending his Celtic heritage with contemporary elements such as punk, electroncia, hip-hop and grunge. Audiences who may have felt alienated by Ashley's disregard of convention were instantly won over by his dazzling displays of grit, passion and authority. Ashley's follow-up Fine, Thank You Very Much was a more traditional but no less original outing that delivered on the promise of his debut.
Tickets for this performance are $37.50 ($28.50 for IMAC Members). For tickets or further information on this performance, or on other IMAC programs, call IMAC's 24-hour Arts-Line at (631) 549-ARTS. Tickets can also be purchased at the theater from noon to 6PM, Tuesday through Friday, 2PM to 6PM on Saturdays and after 2PM on the day of the performances. For further information, call IMAC's business office at (631) 549-9666.
The Inter-Media Art Center, Inc. is a non-profit Media and Performing Arts Center whose programs and services are supported in part by public funds from the New York State Council on the Arts (a state agency), Suffolk County Office of Cultural Affairs, the Town of Huntington, by a grant from The Harmon Foundation, as well as by the Members of IMAC. IMAC also gratefully acknowledges support from Fleet Bank, Korg USA, The Guitar Center, The D'Addario Foundation for the Performing Arts, AutoOne Insurance, Peconic Bay Winery, Branch Financial Services and Olivia and Harlan Fischer.