IMAC TO PRESENT A CONCERT WITH JAZZ TRUMPETER
HUGH MASEKELA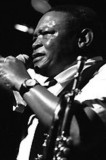 Back Home | [email protected]
ADMISSION: $37.50 Full Price / $28.50 IMAC Members
---
DATE: SATURDAY, June 5th, 2004 at 9PM

On Saturday, June 5th, 2004 at 9PM, the Inter-Media Art Center (also known as "IMAC") in Huntington, Long Island will present a concert with jazz trumpet legend HUGH MASEKELA.
Hugh Masekela is the father of African jazz and is South Africa's musical ambassador to the world. His trumpet has been an instrument of resistance, a call to freedom and a celebration of the resilience of his people. His powerful blend of jazz, funk and afro-beat has mourned the tragedy of apartheid and rejoiced at its demise.
Hugh Masekela is a worldwide superstar and has released over 30 albums. He is a globally renowned trumpeter, who has performed with artists ranging from Louis Armstrong to Paul Simon, Adrian Belew and The Byrds. Hugh was instrumental in the conception of the Broadway smash musical "Sarafina."
Masekela's fans will be happy to hear, Time, Hugh's first new material in three years. Time is a magnificent and delightful journey for jazz fans... a wonderful album combing African, Latin and South American rhythms. Eleven stellar new tracks focusing on love, peace and relationships are all highlighted by Hugh's beautifully gritty voice and his unbelievable trumpet.

Tickets for this performance are $37.50 ($28.50 for IMAC Members). For tickets or further information on this performance, or on other IMAC programs, call IMAC's 24-hour Arts-Line at (631) 549-ARTS. Tickets can also be purchased at the theater from noon to 6PM, Tuesday through Friday, 2PM to 6PM on Saturdays and after 2PM on the day of the performances. For further information, call IMAC's business office at (631) 549-9666.

The Inter-Media Art Center, Inc. is a non-profit Media and Performing Arts Center whose programs and services are supported in part by public funds from the New York State Council on the Arts (a state agency), Suffolk County Office of Cultural Affairs, the Town of Huntington, by a grant from The Harmon Foundation, as well as by the Members of IMAC. IMAC also gratefully acknowledges support from Fleet Bank, Korg USA, The Guitar Center, The D'Addario Foundation for the Performing Arts, AutoOne Insurance, Peconic Bay Winery, Branch Financial Services and Olivia and Harlan Fischer.