SANTA COMES EARLY TO IMAC THEATER!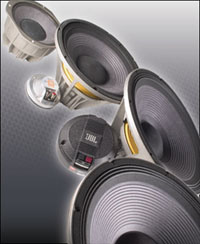 ---
IMAC ANNOUNCES THE INSTALLATION OF
A NEW SPEAKER SYSTEM
The JBL VRX932LA Constant Curvature Line Array Speaker System
The IMAC Theater in Huntington, Long Island known for its adventurous programming and excellent sound has just received a generous gift from JBL Professional, a Harman International Company. The gift is essentially a major improvement to the theater's sound system consisting of JBL's newest addition to their professional speaker line, the VRX932LA constant curvature line array speaker system. Although IMAC is renowned for it's perfect acoustics the new speakers will improve the sound a magnitude and allow for more natural, cleaner, dynamic and articulated sound. In addition, IMAC has acquired Crown Macro-Tech sound amplifiers, a high end professional standard to power the new speaker system.
Although this is news in and of itself, the underlying story is quite interesting and is an example of how community and corporate involvement in the non-profit arts can be a win-win-win for the whole community. Harman Consumer Group, a division of Harman International is located in Woodbury Long Island. Over the years, many employees have become regulars at the IMAC Theater and because they are lovers of great sound took the IMAC cause for better sound to the top company executives. "We felt the programming has been outstanding over the years and that Harman Consumer could help IMAC to bring their already excellent sound to a much higher level", says Eli Harray Vice President of Marketing at Infintiy Speakers, a Harman affiliate. After a bit of lobbying, Eli was able to secure a full speaker system. But sometimes a gift, even if it's free may require a substantial amount of money to bring the installation to completion. IMAC still needed to purchase high end Crown Amplifiers and have them installed professionally. Towards this end community fund raising efforts involved both private and government funding. New York State Senator Carl Marcellino (R-Oyster Bay) helped by securing a state grant from the Department of Parks, Recreation and Historic Preservation for IMAC Theater improvements and Financial Advisor Harlan Fischer from Branch Financial Services of Smithtown provided the additional funding necessary to help purchase the power amplifiers and hire the incredible professional installation services of S.K. Systems located in Bohemia, NY. Tom Heinish of SK Systems worked with IMAC's sound engineer, Dennis Cashton, Wantagh, NY to hang and fine tune the system using high end computer software to measure and shape the sound for the theater space. "It was like two chefs doing a ballet in the kitchen, the attention to detail the listening, the sampling, the tasting of the sound, so to speak was intriguing to observe. We are pleased as punch" said Kathie Bodily, IMAC's co-director. Harlan Fischer said, "It's beautiful music when the Business, the Government and the Technical sectors come together in support of the Arts".

Click here for details on all of our upcoming shows