IMAC TO PRESENT A CONCERT WITH JAZZ AND BLUES VOCALIST
MADELEINE PEYROUX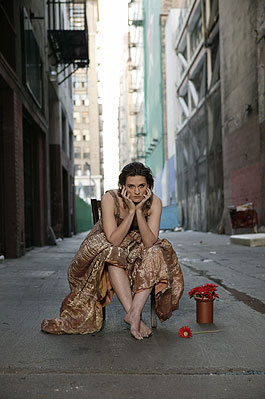 DATE: SATURDAY, November 27th, 2004 at 9PM

$37.50 Full Price / $28.50 IMAC Members

On Saturday, November 27th, 2004 at 9PM, the Inter-Media Art Center (also known as "IMAC") in Huntington, Long Island will present a concert with jazz and blues vocalist MADELEINE PEYROUX.
When she first burst onto the recording scene in 1996 with her stunning debut album Dreamland, Madeleine Peyroux was greeted with a veritable torrent of gushing reviews. Most raved about her smoke and whiskey vocals, often comparing her to the late, great Billie Holiday. Others wondered how someone so young could perform classic songs by Holiday, Bessie Smith and Patsy Cline so convincingly as to make them sound like her own.
Peyroux, an American who had been living in Paris as a street musician, suddenly found herself on the fast track to fame. Appearances at Lilith Fair and jazz festivals, and opening tours for Sarah McLachlan and Cesaria Evora followed, while Dreamland's sales reached an impressive 200,000 copies worldwide.
Eight years have passed between the release of Dreamland and that of Careless Love. Waiting that long to release her sophomore album is admittedly not a typical career move, but then Peyroux (pronounced like the country Peru) is not a typical artist. One needs only to listen to her to understand this. She seamlessly weaves strands of acoustic blues, country ballads, torch songs and pop into a vibrant fabric that is both classically vintage and thoroughly up to date. Peyroux is once again proving herself to be an original interpreter and an open receptor to songs from earlier eras- an artist who channels vintage jazz and blues with chilling accuracy.
Tickets for this performance are $37.50 ($28.50 for IMAC Members). For tickets or further information on this performance, or on other IMAC programs, call IMAC's 24-hour Arts-Line at (631) 549-ARTS. Tickets can also be purchased at the theater from noon to 6PM, Tuesday through Friday, 2PM to 6PM on Saturdays and after 2PM on the day of the performances. For further information, call IMAC's business office at (631) 549-9666.
The Inter-Media Art Center, Inc. is a non-profit Media and Performing Arts Center whose programs and services are supported in part by public funds from the New York State Council on the Arts (a state agency), Suffolk County Office of Cultural Affairs, the Town of Huntington, by a grant from The Harmon Foundation, as well as by the Members of IMAC. IMAC also gratefully acknowledges support from Fleet Bank, Korg USA, The Guitar Center, The D'Addario Foundation for the Performing Arts, AutoOne Insurance, Peconic Bay Winery, MDNY Healthcare, Branch Financial Services and Olivia and Harlan Fischer.