IMAC TO HOST A PERFORMANCE
BY COMEDIAN
PAULA POUNDSTONE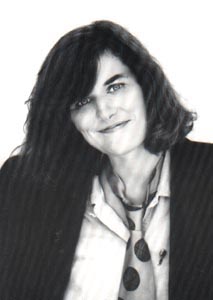 Friday, October 4th at 9pm

TICKETS: $40.00 General Public
/ $30.00
On Friday, October 4th at 9pm, the Inter-Media Art Center in Huntington, Long Island will host an evening of comedy and laughs with comedian extrordinaire PAULA POUNDSTONE.

Paula Poundstone is one of the most original and imaginative comedians in the country. Coming to prominence in the comedy-conscious 80's, Paula's candid, conversational style and endearing off-kilter
views of the world have sustained her as one of the foremost comics today. Rather than fueling the usual gender-based topics of relationships, diet, men or sex, Paula engages her audience with her off beat interpretation of everyday life. No matter how large the venue, Paula has the unique ability to create with her audience what she calls, " a feeling of being in the living room with a bunch of friends".

Poundstone has earned an American Comedy awards nod as the country's best female stand-up comic, as well as two CableACE awards for her HBO specials, "Cats, Cops and Stuff" and "Paula Poundstone Goes to Harvard". There's the long list of appearances that include the Emmy Awards, the Oscars, the first woman to headline the White House Correspondents Dinner, " The Tonight Show", "The Rosie O'Donnell Show" and "Sesame Street". She's also appeared at Comic Relief benefits for the homeless. IMAC is thrilled to offer this unique, first-time experience with comedian Paula Poundstone.
Tickets for this performance are $40.00 ($30.00 for IMAC Members). For tickets to this performance, or for other IMAC programs, call IMAC's 24-hour Arts-Line at (631) 549-ARTS. Tickets can also be purchased at the theater from noon to 6PM, Tuesdays to Fridays, and after 2PM on the day of the show. For further information, call IMAC's business office at (631) 549-9666.
---
The Inter-Media Art Center, Inc. is a non-profit Media and Performing Arts Center whose programs and services are supported in part by public funds from the New York State Council on the Arts (a state agency), a grant from New York State Senator James A. Lack, the Suffolk County Office of Cultural Affairs, and Suffolk County Legislator Jon Cooper, as well as by the Members of IMAC. IMAC also gratefully acknowledges support from Fleet Bank, Korg USA, Branch Financial Services and Olivia and Harlan Fischer.

(631) 549-9666 voice (631) 549-9423 fax
e-mail: [email protected] http://www.imactheater.org