IMAC TO HOST AN
EXHIBITION OF PAINTINGS BY
STANKO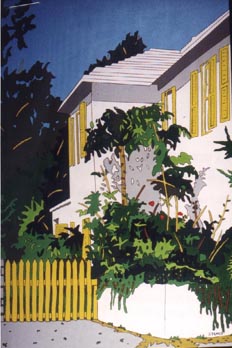 From Saturday, September 14th through
Friday, November 22nd , 2002
GALLERY HOURS:
Tuesday to Friday � noon to 6PM
Saturday�s � 2 to 6PM
Closed: Sunday and Monday
From Saturday, September 14th through Friday, November 22nd , 2002 The Inter-Media Art Center in Huntington, Long Island will host an exhibition of paintings by STANKO.
STANKO is fast becoming one of New York's most active and well-received artists. Stanko's distinctive painting style has evolved from his passion for bright colors and pop culture. His prolific body of work produced throughout the past decade reveals his unique style. Whether the image depicted is familiar or fanciful, STANKO creates an unusually delightful world of brilliance and whimsy.
STANKO records the world around him with his paintbrush...in living color. His world is not merely his native Long Island, but also a variety of far reaching locations, both real and imagined. He portrays his experiences on canvas and shares them with his viewers. His acrylic paintings are a feast for the eyes and a treat for the imagination.
STANKO's works have been widely exhibited and are housed in numerous private and corporate collections. He shares his life and studio with his wife, artist Karen Zang.
Admission to this exhibition is free of charge. Gallery hours are from Tuesday to Friday, noon to 6PM, and from 2 to 6PM on Saturdays. IMAC is closed on Sunday and Monday. For further information on this exhibition, for a complete schedule of concert and exhibition dates, or for further information about other IMAC programs, call IMAC's business office at (631) 549-9666.
---
The Inter-Media Art Center, Inc. is a non-profit Media and Performing Arts Center whose programs and services are supported in part by public funds from the New York State Council on the Arts (a state agency), a grant from New York State Senator James A. Lack, the Suffolk County Office of Cultural Affairs, and Suffolk County Legislator Jon Cooper, as well as by the Members of IMAC. IMAC also gratefully acknowledges support from Fleet Bank, Korg USA, Branch Financial Services and Olivia and Harlan Fischer.

(631) 549-9666 voice (631) 549-9423 fax
e-mail: [email protected] http://www.imactheater.org