Reggae with
Steel Pulse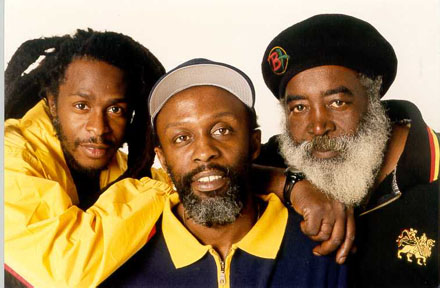 Tickets:
$45.00 Full Price / $34.00 IMAC Members
---
DATE: SATURDAY June 11th, 2005 at 9PM
On Saturday, June 11th, 2005 at 9PM, the Inter-Media Art Center (also known as "IMAC") in Huntington, Long Island will present a concert with reggae group Steel Pulse.
Steel Pulse may have explored various styles of music since they started out in 1975, but when it comes to the message, the UK's Grammy-Winning reggae band has remained close to their roots. The group has continued their commitment to fighting injustice, educating the masses, and promoting positive messages through spiritually uplifting music. The band's international success has resulted in a Grammy award for their Babylon The Bandit album, and nominations for Earth Crisis, Victims, Rastafari Centennial and Rage & Fury.
Currently, Steel Pulse tours with a nine-piece ensemble that includes founder David Hinds (lead vocals, rhythm guitar), with Steve Nisbett (drums, percussion) and Selwyn Brown (keyboards, vocals).
Tickets for this performance are $45.00 ($34.00 for IMAC Members). For tickets or further information on this performance, or on other IMAC programs, call IMAC's 24-hour Arts-Line at (631) 549-ARTS. Tickets can also be purchased at the theater from noon to 6PM, Tuesday through Friday, 2PM to 6PM on Saturdays and after 2PM on the day of the performances. For further information, call IMAC's business office at (631) 549-9666.
The Inter-Media Art Center, Inc. is a non-profit Media and Performing Arts Center whose programs and services are supported in part by public funds from the New York State Council on the Arts (a state agency), Suffolk County Office of Cultural Affairs, the Town of Huntington, by a grant from The Harmon Foundation, as well as by the Members of IMAC. IMAC also gratefully acknowledges support from Bank of America, Korg USA, The Guitar Center, The D'Addario Foundation for the Performing Arts, AutoOne Insurance, Peconic Bay Winery, The Lowerre Family Trust, MDNY Healthcare, Branch Financial Services and Olivia and Harlan Fischer.