IMAC TO HOST A CONCERT WITH
INFECTIOUS BLUESMAN
TAJ MAHAL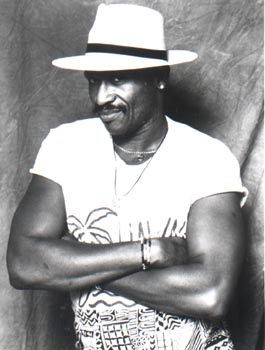 Saturday, December 7th at 8pm & 10:30pm
TICKETS: $35.00 General Public
/ $26.50
On Saturday, December 7th at 8pm & 10:30pm, the Inter-Media Art Center in Huntington, Long Island will host a concert with infectious bluesman TAJ MAHAL.
Ask anyone who knows him, and they'll tell you; Taj Mahal is a family man. Of course, we're talking about the family of great African-American musical traditions- blues, folk, reggae, R&B;, zyedeco, gospel, jazz- all of which define the very character of music in this country. For Taj, music may have a Caribbean lilt or an urban growl - But whatever the accent, over the course of his peerless thirty-five year career, Taj has remained one of our premiere troubadours, revealing in every performance the souls of black folk. His new Private Music album, Senor Blues, is the latest from the manic street preacher of American roots music.
Tickets for this performance are $35.00 General Public ($26.50 for IMAC Members). For tickets or further information on this performance, or on other IMAC programs, call IMAC's 24- hour Arts-Line at (631) 549-ARTS. Tickets can also be purchased at the theater from noon to 6PM, Tuesdays to Fridays, and after 2PM on the day of the performance. For further information, call IMAC's business office at (631) 549-9666.
---
The Inter-Media Art Center, Inc. is a non-profit Media and Performing Arts Center whose programs and services are supported in part by public funds from the New York State Council on the Arts (a state agency), a grant from New York State Senator James A. Lack, the Suffolk County Office of Cultural Affairs, and Suffolk County Legislator Jon Cooper, as well as by the Members of IMAC. IMAC also gratefully acknowledges support from Fleet Bank, Korg USA, Branch Financial Services and Olivia and Harlan Fischer.

(631) 549-9666 voice (631) 549-9423 fax
e-mail: [email protected] http://www.imactheater.org