IMAC TO PRESENT AN EVENING OF JAZZ WITH
THREE GUITARS
LARRY CORYELL, BADI ASSAD &
JOHN ABERCROMBIE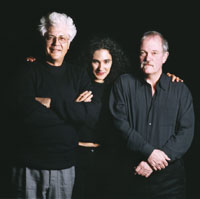 www.badiassad.com.br
larrycoryell.net/news.php
www.johnabercrombie.com
---
SATURDAY, November 12th, 2005 at 9PM
ADMISSION: $37.50 Full Price / $28.50 IMAC Members
On Saturday, November 12th, 2005 at 9PM, the Inter-Media Art Center (also known as "IMAC") in Huntington, Long Island will present a concert with THREE GUITARS- LARRY CORYELL, BADI ASSAD and JOHN ABERCROMBIE.
What happens when you combine three guitar masters, each with a lifetime of impressive musical experiences, and have them play together in the wonderful acoustic setting of IMAC Theater? You have the ideal set of ingredients for an eclectic, original masterpiece known as THREE GUITARS- featuring LARRY CORYELL, BADI ASSAD and JOHN ABERCROMBIE.
Larry Coryell formed The Eleventh House, one of fusion's most influential groups in the 1970's and has unleashed his guitar sorcery with everyone from Dizzy Gillespie and Charles Mingus to Randy Brecker and Chico Hamilton. As one of the pioneers of modern guitar, he brings a vibrant modernism to the acoustic setting of the Three Guitars.
One of the most exciting and innovative guitar players performing today is Brazil's Badi Assad. A virtuoso whose technical ability never overshadows the visceral impact of her playing, Assad, is, quite simply, a wonder to behold. On this project Badi exhibits her amazing talents by adding kalimba and copper flute to the mix in addition to her unique mouth and body percussion techniques.
Blending a creative mix of styles in his playing, John Abercrombie is regarded as one of the most influential guitarists of the last 25 years. His style continues to evolve as he has worked with such musicians as Johnny Hammond, Charles Lloyd, Billy Cobham and Dave Holland to name a few.
Tickets for this performance are $37.50 ($28.50 for IMAC Members). For tickets or further information on this performance, or on other IMAC programs, call IMAC's 24-hour Arts-Line at (631) 549-ARTS. Tickets can also be purchased at the theater from noon to 6PM, Tuesday through Friday, 2PM to 6PM on Saturdays and after 2PM on the day of the performances. For further information, call IMAC's business office at (631) 549-9666.
The Inter-Media Art Center, Inc. is a non-profit Media and Performing Arts Center whose programs and services are supported in part by public funds from the New York State Council on the Arts (a state agency), Suffolk County Office of Cultural Affairs, the Town of Huntington, by a grant from The Harmon Foundation, as well as by the Members of IMAC. IMAC also gratefully acknowledges support from Bank of America, Korg USA, The Guitar Center, The D'Addario Foundation for the Performing Arts, AutoOne Insurance, Peconic Bay Winery, The Lowerre Family Trust, MDNY Healthcare, Branch Financial Services and Olivia and Harlan Fischer.