A CONCERT WITH SOUL SUPERGROUP
TOWER OF POWER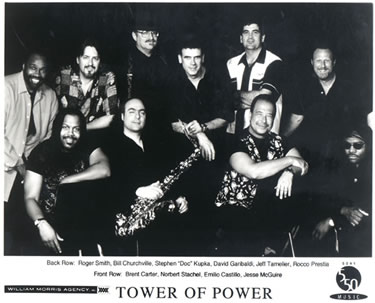 Tickets: $40.00 Full Price / $30.00 IMAC MEMBERS
---
SATURDAY, March 12th, 2005 at 8PM & 10:30PM

On Saturday, March 12th, 2005 at 8PM & 10:30PM, the Inter-Media Art Center (IMAC) in Huntington, Long Island will present a concert with soul super-group TOWER OF POWER.
No matter who you are, where you live, or your taste in music, Tower of Power will find you. And once that happens, it's all over. You will come to believe not only that soul music is the salvation of us all, but that Tower of Power is one of those rare bands who can claim to be the real deal, 100 proof, aged to perfection, ground zero Soul. And the thing is… they're everywhere now.
Of course they're still on the radio, their up-front brass section serving as the prototype for today's retro-swing bands, and lending their singular horns to immortal tracks by Elton John, Rod Stewart, the Eurythmics and Phish. But the truest testament to Tower of Power remains the band's formidable concert appearances. Stand in front of the stage at their show and bathe in the sonic blast of brass and funk.
Tickets for this performance are $40.00 ($30.00 for IMAC Members). For tickets or further information on this performance, or on other IMAC programs, call IMAC's 24-hour Arts-Line at (631) 549-ARTS. Tickets can also be purchased at the theater from noon to 6PM, Tuesday through Friday, 2PM to 6PM on Saturdays and after 2PM on the day of the performances. For further information, call IMAC's business office at (631) 549-9666.
The Inter-Media Art Center, Inc. is a non-profit Media and Performing Arts Center whose programs and services are supported in part by public funds from the New York State Council on the Arts (a state agency), Suffolk County Office of Cultural Affairs, the Town of Huntington, by a grant from The Harmon Foundation, as well as by the Members of IMAC. IMAC also gratefully acknowledges support from Fleet Bank, Korg USA, The Guitar Center, The D'Addario Foundation for the Performing Arts, AutoOne Insurance, Peconic Bay Winery, MDNY Healthcare, Branch Financial Services and Olivia and Harlan Fischer.