IMAC TO PRESENT A
JAZZ CONCERT WITH GUITARIST
PETER WHITE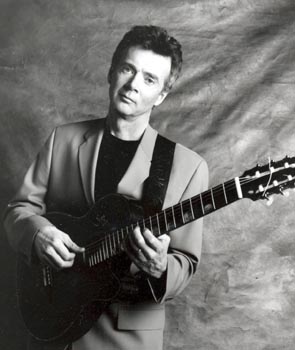 Friday, June 7th at 8 & 10:30PM
TICKETS: $30.00 General Public
/ $22.50
On Friday, June 7th at 8 & 10:30PM, the Inter-Media Art Center in Huntington, Long Island will host a concert featuring jazz guitarist PETER WHITE.
Since he burst onto the scene in 1990, guitarist PETER WHITE has made quite a name for himself. His first solo album, "Reveillez-Vous" was ranked the fifth best selling album of 1990, a year in which he was also named Best New Male Artist of the Year. He released his second album, "Excusez-Moi", in 1992, and it became the #2 New Adult Contemporary album of that year. His newest release is "Perfect Moment." Peter began his performing career in the band of Al Stewart, and spent time recording and performing with Matt Bianco before moving into his most visible position of his pre-solo days -- as a member of Basia's band, alongside his brother, Danny.
Tickets for this performance are $30.00 ($22.50 for IMAC Members). For tickets to this performance, or for other IMAC programs, call IMAC's 24-hour Arts-Line at (631) 549-ARTS. Tickets can also be purchased at the theater from noon to 6PM, Tuesdays to Fridays, and after 2PM on the day of the show. For further information, call IMAC's business office at (631) 549-9666.
The Inter-Media Art Center, Inc. is a non-profit Media and Performing Arts Center whose programs and services are supported in part by public funds from the New York State Council on the Arts, a state agency and the Suffolk County Office of Cultural Affairs, as well as by the Members of IMAC. IMAC also gratefully acknowledges support from Fleet Bank, Korg, USA, Branch Financial Services and Olivia and Harlan Fischer. 370 New York Avenue Huntington, NY 11743-3319

(631) 549-9666 voice (631) 549-9423 fax
e-mail: [email protected] http://www.imactheater.org