IMAC TO PRESENT A CONCERT WITH CONTEMPORARY PIANIST
GEORGE WINSTON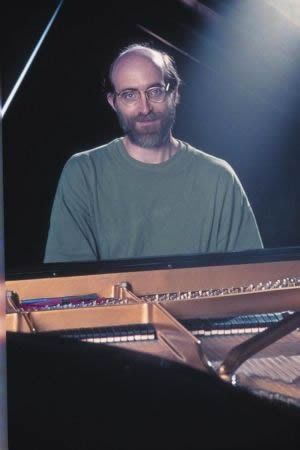 ---
Saturday, April 7th, 2007 at 8PM
Tickets: $45 Full Price / $34 IMAC Members
Website: www.georgewinston.com
---
On Saturday, April 7th, 2006 at 8PM, the Inter-Media Art Center (also known as "IMAC") in Huntington, Long Island will present an evening with contemporary pianist George Winston.
George Winston plays over 100 solo piano concerts a year in America and beyond, as deep tributes to the seasons. These concerts feature a variety of styles, including his melodic folk piano, stride piano, R&B piano, Vince Guaraldi's Peanuts pieces and more. Winston is driven by a deep rooted realization that his craft is still evolving, and by his desire to bring music to life through live performances, musical interpretations of other composers' works, and the recording and production of albums of many of those who have influenced and inspired him.
In George Winston's own words: "I play three styles: New Orleans R&B, stride piano and third, folk piano, the style that is influenced by instrumental R&B and rock, North American folk music, and even more by the sounds of the piano itself."
Tickets for this performance are $45.00 ($34.00 for IMAC Members). For tickets or further information on this performance, or on other IMAC programs, call IMAC's 24-hour Arts-Line at (631) 549-ARTS. Tickets can also be purchased at the theater from noon to 6PM, Tuesday through Friday, 2PM to 6PM on Saturdays and after 2PM on the day of the performances. For further information, call IMAC's business office at (631) 549-9666.
The Inter-Media Art Center, Inc. is a non-profit Media and Performing Arts Center whose programs and services are supported in part by public funds from the New York State Council on the Arts (a state agency), Suffolk County Office of Cultural Affairs, the Town of Huntington, NYS Senator Carl Marcellino, by a grant from The Harmon Foundation, as well as by the Members of IMAC. IMAC also gratefully acknowledges support from Korg USA, The Emily T. Allen & Linda P. Allen and F. Towne Allen Charitable Gift Fund at The Boston Foundation, The D'Addario Foundation for the Performing Arts, JBL Pro, AutoOne Insurance, Peconic Bay Winery, The Lowerre Family Trust, Branch Financial Services and Olivia and Harlan Fischer.