IMAC TO PRESENT A CONCERT WITH
ELIANE ELIAS & PETE BELASCO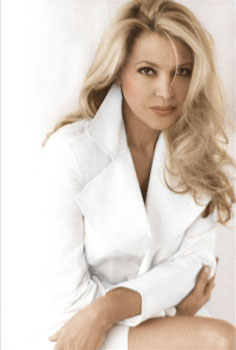 Tickets: : $37.50 Full Price / $28.50 IMAC MEMBERS
---
DATE: SATURDAY, March 19th, 2005 at 9PM
On Saturday, March 19th, 2005 at 9PM, the Inter-Media Art Center (also known as "IMAC") in Huntington, Long Island will present a concert with pianist/songwriter ELIANE ELIAS and keyboardist/ saxophonist/songwriter PETE BELASCO.
Pianist/composer/singer, Eliane Elias is known for her distinct and immediately recognizable musical style which blends her Brazilian roots with her impressive jazz and classical skills. In her work Elias has documented dozens of her own compositions, her outstanding piano playing and arranging, and several beautiful vocal interpretations. All of her recordings have garnered a great deal of praise from the critics and all have topped the Billboard and Jazz Radio charts. In 1998 she was voted Best New Talent by the jazz critics' poll of JAZZIZ magazine. Together with Herbie Hancock in their duet, she was nominated for a Grammy in the "Best Jazz Solo Performance" category for her 1995 release. As a guest artist she has appeared on performances and recording with Joe Henderson, James Taylor, Michael Franks, Mingus Dynasty, Andy Summers, Earl Klugh, Denyce Graves, and Calle 54 to name a few.
Jazz-pop artist Pete Belasco began playing sax and piano at a young age. In college, he soon became primarily interested in jazz and studied sax at Rutgers University and the Hart Conservatory. After a severe boating accident broke both his hands, he turned to composing and singing. Upon healing, Belasco moved to New York to record his debut Get It Together, which was released on Verve in 1997. The album was a concoction of influences such as Mose Allison, Marvin Gaye, and Van Morrison, along with jazzy pop and lounge music cool. His long-awaited sophomore effort, Deeper, was released to critical acclaim.
Tickets for this performance are $37.50 ($28.50 for IMAC Members). For tickets or further information on this performance, or on other IMAC programs, call IMAC's 24-hour Arts-Line at (631) 549-ARTS. Tickets can also be purchased at the theater from noon to 6PM, Tuesday through Friday, 2PM to 6PM on Saturdays and after 2PM on the day of the performances. For further information, call IMAC's business office at (631) 549-9666.
The Inter-Media Art Center, Inc. is a non-profit Media and Performing Arts Center whose programs and services are supported in part by public funds from the New York State Council on the Arts (a state agency), Suffolk County Office of Cultural Affairs, the Town of Huntington, by a grant from The Harmon Foundation, as well as by the Members of IMAC. IMAC also gratefully acknowledges support from Bank of America, Korg USA, The Guitar Center, The D'Addario Foundation for the Performing Arts, AutoOne Insurance, Peconic Bay Winery, Branch Financial Services and Olivia and Harlan Fischer.