IMAC TO PRESENT A CONCERT WITH FOLK GUITARISTS AND SINGER/SONGWRITERS
LUCY KAPLANSKY & STEVE FORBERT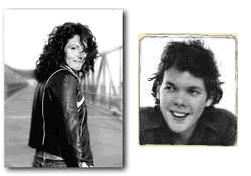 $37.50 Full Price / $28.50 IMAC Members
---
DATE: FRIDAY, November 12th, 2004 at 9PM
On Friday, November 12th, 2004 at 9PM, the Inter-Media Art Center (also known as "IMAC") in Huntington, Long Island will present a concert with folk guitarists and singer/songwriters LUCY KAPLANSKY and STEVE FORBERT.
A prolific studio singer, LUCY KAPLANSKY has performed with Shawn Colvin, Nanci Griffith, Suzanne Vega, John Gorka and as a part of the super-group folk trio CRY, CRY, CRY (with Richard Shindell and Dar Williams). She's enjoyed success as a solo artist as well, receiving the AFIM award (Association For Independent Music) for Best Pop Album for her album Ten Year Night. Her new recording The Red Thread is a perfect blend of folk-pop. The performance is riveting: the imagery and emotion of her lyrics and melodies match the nuance, power and texture in her voice. She gets to the heart of a song, touching listeners and leaving them wanting more.
Those who simply remember STEVE FORBERT from his 1979 hit "Romeo's Tune" will be pleasantly, caught off-guard by the rough-hewn style of music he's making today. Forbert has evolved into an artist with more grit to his work, a quality that textures both his vocals and folk-style harmonica playing. And lyrically Forbert is also drilling deeper, as Just Like There's Nothin' to It (his newest release scheduled for May 11, 2004) is about as cliché-free as a songwriter can get.
Tickets for this performance are $37.50 ($28.50 for IMAC Members). For tickets or further information on this performance, or on other IMAC programs, call IMAC's 24-hour Arts-Line at (631) 549-ARTS. Tickets can also be purchased at the theater from noon to 6PM, Tuesday through Friday, 2PM to 6PM on Saturdays and after 2PM on the day of the performances. For further information, call IMAC's business office at (631) 549-9666.
The Inter-Media Art Center, Inc. is a non-profit Media and Performing Arts Center whose programs and services are supported in part by public funds from the New York State Council on the Arts (a state agency), Suffolk County Office of Cultural Affairs, the Town of Huntington, by a grant from The Harmon Foundation, as well as by the Members of IMAC. IMAC also gratefully acknowledges support from Fleet Bank, Korg USA, The Guitar Center, The D'Addario Foundation for the Performing Arts, AutoOne Insurance, Peconic Bay Winery, Branch Financial Services and Olivia and Harlan Fischer.